~
Pumpkin Mudslide
It's finally fall! My favorite season! Hmmm... maybe my favorite season is winter... I'm not sure, I just know that I love fall! Gone are the hot humid sweaty sticky days of summer and they're replaced with cool days, cooler nights, leaves changing color and the smell of fireplaces burning in the evening.
It just makes me want to inhale deeply, close my eyes and say "ahhhhhhh".
My sister, Jeannie has a cocktail for every occasion. She made Pumpkin Mudslides this weekend... what sounds more perfect for fall than a Pumpkin Mudslide?
Pumpkin Mudslide
Equal parts
:
Pumpkin Spice Schnapps
or
Fulton's Harvest Pumpkin Pie Cream Liqueur
Kaluha
Vanilla Vodka
Splash of milk (however much or little as you like)
Shake with ice and enjoy!!
The first one I tried had Pumpkin Spice Schnapps.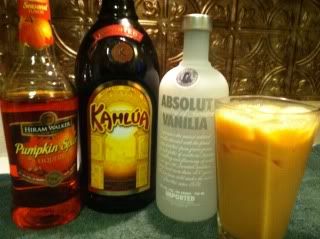 The second one had Fulton's Harvest Pumpkin Pie Cream Liqueur.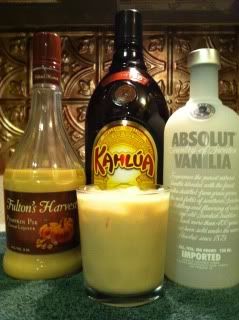 These are both wicked good!! But if you make it with Fulton's Harvest Pumpkin Pie Cream Liqueur, it really does taste
just like
pumpkin pie!
I highly recommend you give this a try in the very near future!!
Happy Fall!!
Thanks Spryte, for allowing us to reprint this delicious fall cocktail!